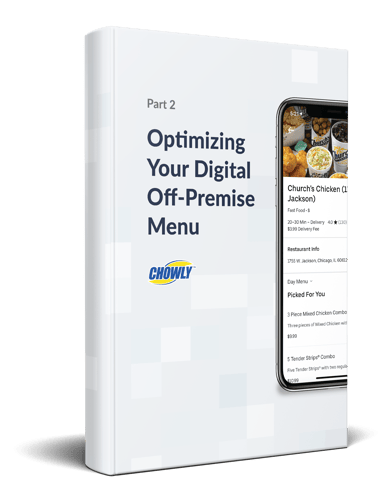 OPTIMIZING YOUR DIGITAL OFF-PREMISE MENU
The customer's experience navigating a restaurant's digital menu can directly impact their perception of the brand—positively or negatively. This places heightened importance on optimizing each digital menu for its respective platform to ensure a seamless ordering process. With this white paper, we will explore best practices for building out your restaurant's third-party marketplace and direct channel menus. We also provide solutions for effectively managing menus on multiple third-party platforms.

CURRENT ORDERING TRENDS
Discover how to trim down and arrange delivery menu items based on trends and menu psychology.
BUILDING OUT YOUR MENU
Understand the differences between the menu in your restaurant's POS system and third-party marketplace menus.
THE FOUR Ps
Learn about the four Ps of your menu: Product, Placement, Presentation, and Packaging. See if your current menu hits all these important elements.
MENU MANAGEMENT
Managing menus on each platform requires a lot of time and manual data entry. See how to gain control with MenuMatch.